The hunt for the perfect luxury chalet can be an overwhelming process, with so many options available it can be hard to know which one is the right fit for you. Whether you're looking for a romantic getaway, a family holiday, or a refuge from the everyday hustle and bustle, choosing the right chalet is essential.
This guide is here to provide you with all the information you need to make an informed decision and create the perfect luxury retreat. We'll cover everything from the chalet location, amenities, and facilities, to the different types of luxury chalets available, and tips for getting the best deal.
From the slopes of the Alps to the beaches of the Caribbean, this guide will help you to find the perfect luxury chalet to suit your needs.
Guide to Choosing the Perfect Luxury Chalet
1. Location
When it comes to choosing the perfect luxury chalet, location is key. After all, you want to make sure you're close to the activities and attractions you're interested in. Whether you're looking for a ski chalet nestled in the mountains, a beachfront chalet for a relaxing getaway, or a chalet close to a vibrant city, make sure you're taking into account the location and how it fits into your plans.
Consider questions like: What activities are nearby? What kind of atmosphere does the area offer? What is the weather like? These are all important factors to consider when choosing the perfect luxury chalet.
2. Amenities
When it comes to choosing the perfect luxury chalet, amenities should be at the top of your list. Many chalets will come equipped with a wide range of amenities, such as luxury linens, flat-screen TVs, fully-equipped kitchens, outdoor hot tubs, and more.
Make sure to ask about what amenities are included, and if any additional amenities can be added. Depending on how many people you're travelling with, you may want to look for amenities such as private chefs, massage services, and babysitters.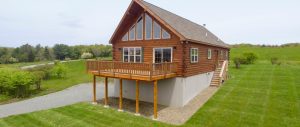 This way, you can ensure that everyone's needs are taken care of and that you have an unforgettable stay.
3. Privacy
Privacy is an important factor to consider when selecting the perfect luxury chalet. If you are looking for a peaceful and relaxing getaway from the hustle and bustle of everyday life, you should make sure the chalet you choose offers plenty of privacy.
Look for one that is isolated from other properties and surrounded by natural barriers like trees or hills. You may also want to check if there are any nearby roads or other noise sources that could disrupt your peace and quiet.
Additionally, you should inquire about the availability of any additional amenities that could help you achieve even more privacy, such as soundproofing.
4. Budget
When it comes to budgeting for your luxury chalet, it's important to be realistic. First, decide how much you can afford to spend. Then, look into the costs associated with your rental, as well as any additional activities you might want to do while on vacation.
Don't forget to factor in the cost of food, transportation, and any other costs associated with your getaway. Lastly, make sure that the amenities offered by the chalet meet your expectations—if not, it may be worth it to look into a different option.
5. Size of the Chalet
Size is an important factor to consider when choosing the perfect luxury chalet. A larger chalet is ideal if you're looking to comfortably host a group of people, while a smaller chalet is a better fit if you're looking for a romantic getaway.
Make sure to consider the number of bedrooms available, as well as the number of bathrooms, to ensure that your guests will have enough space and privacy. Also, consider the outdoor space available, as this can make a big difference in the overall size of the chalet.
In Conclusion
Choosing the perfect luxury chalet for your holiday getaway is an exciting but daunting task. From size and location, to price and amenities, there is a lot to consider when selecting the ideal chalet for your vacation.
Fortunately, with the help of this guide, you can make an informed decision that meets your budget and your desired amenities. With the right research and a bit of patience, you are sure to find the perfect luxury chalet for your next holiday getaway.